The Squad Assist beta has been live less than a week and we've pushed our first update adding new features and changes! The majority of the new features are only available to squad organisers but these will help with basic squad admin. You can find out how get started with the beta and what the other known issues in this blog post: Open Beta Launch
Update Overview
Admin features for organisers:
New auto-approve toggle when creating events.
Ability to rename your squad.
Ability to remove players from your squad.
Added a character limit to squad names.
General changes:
Updated the design of the modals.
You can now see your email address on the account settings page.
Upcoming Changes
These are things we're working on adding soon:
Event history - matches won't disappear as soon as they reach the time of kick off. All past events (matches) are still being stored on our system so once added you will be able to go back and view past matches.
Password reset and forgotten password functionality.
More descriptive error messages when registering an account.
Ability for players to cancel a squad join request.
Feature Details
Auto-approve toggle on the event creation page
When enabled, any new accepts will be automatically added to the team sheet. Useful for casual groups using first come, first serve, where the organiser doesn't need complete control over who is playing. You can edit existing scheduled events to enable this new feature.

This will be free during the beta for all squads to use but may become part of our premium paid package in the future. We will post details about premium and confirm what's included in it prior to it's launch.
You can now rename your squad
Added the ability to change your squad's name. You can access this from the squad settings using the 3 dots (ellipsis) icon on the players list screen.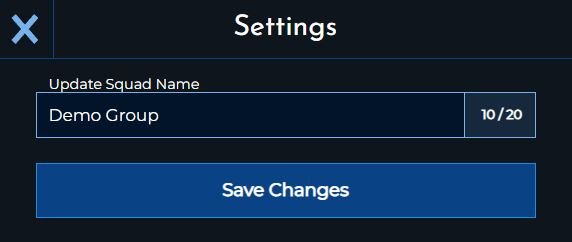 Removing players
You can now remove players from the squad via the player list. Use the tick boxes to select which players you wish to remove, then hit the remove button.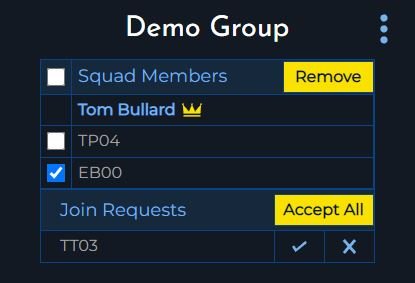 Squad name character limit
Introduced a character limit on new and edited squad names, it's set to 20 at the moment. Let us know if this is too few.
Updated modal design
We've changed the colour of the popup modals to improve the contrast on these menus so that they are easier to read.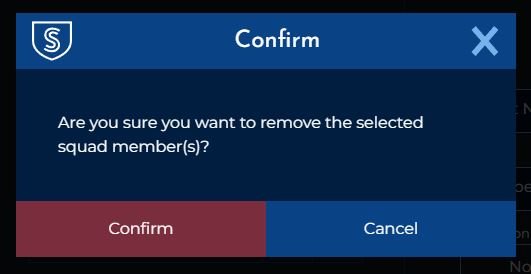 Account settings email address
You can now see your email address on the account settings page so that you know which email you've logged in with. This is for display purposes (read-only), you can't edit or change the email address attached to your account.
As always, keep sending us through your feedback. The changes we've made with this update have been a direct result of this, so thank you. If you would like to be part of the beta you can sign up for free at:
It's Time to Squad Up
For those of you following our progress you will know that we announced the beta back in September. After a slight delay resolving a few technical issues, we are excited to confirm that the Squad Assist beta has officially started this week. For those of you who have received your invite, this post takes you through how to get started, the known issues with the beta version of the app, and how to send us your feedback.
If you would like to be part of the open beta you can sign up at app.squad-assist.com.
Getting Started
Squad Assist is a website that behaves like an app. This means you won't find us on an app store just yet, but instead you need to use the website we've sent you the link to, each time you want to use it. It is, however, possible to download the web app on a range of devices (PC, Mac, ChromeOS, Linux, iOS and Android). Check the installation guide on our website for more details on how to do this.
Once you have created your account you will be ready to join squads or create new ones. Creating a new squad means you are the organiser (admin) for that squad. To invite teammates, press the Invite to Squad button at the bottom of the players tab of a squad you are admin of. This copies a link to your device's clipboard that you can send in an email, text, or message. Players who click this link without a Squad Assist account will be taken through the account creation process first. You will then have to manually accept each player before they are able to see the player list and events.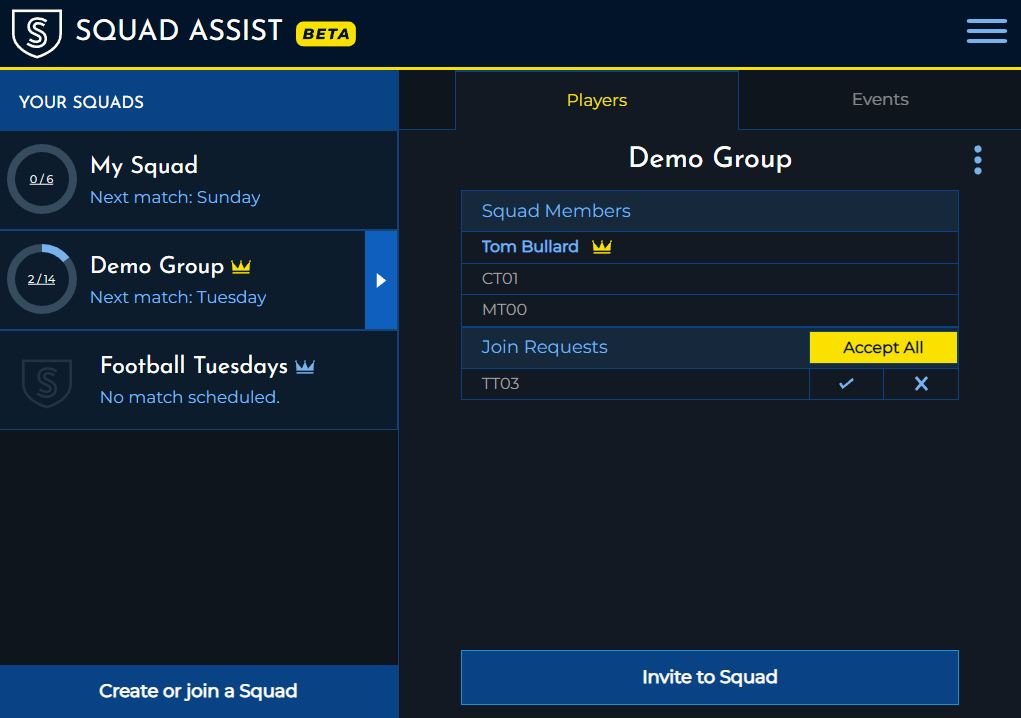 With players invited and accepted, you can then use the event tab to schedule your games. After creating an event you will see the event card listed on that tab. Use the view details button to see who has signed up, then you can manage the team sheet, selecting who is playing, adding stand ins, and confirming whether the game is on.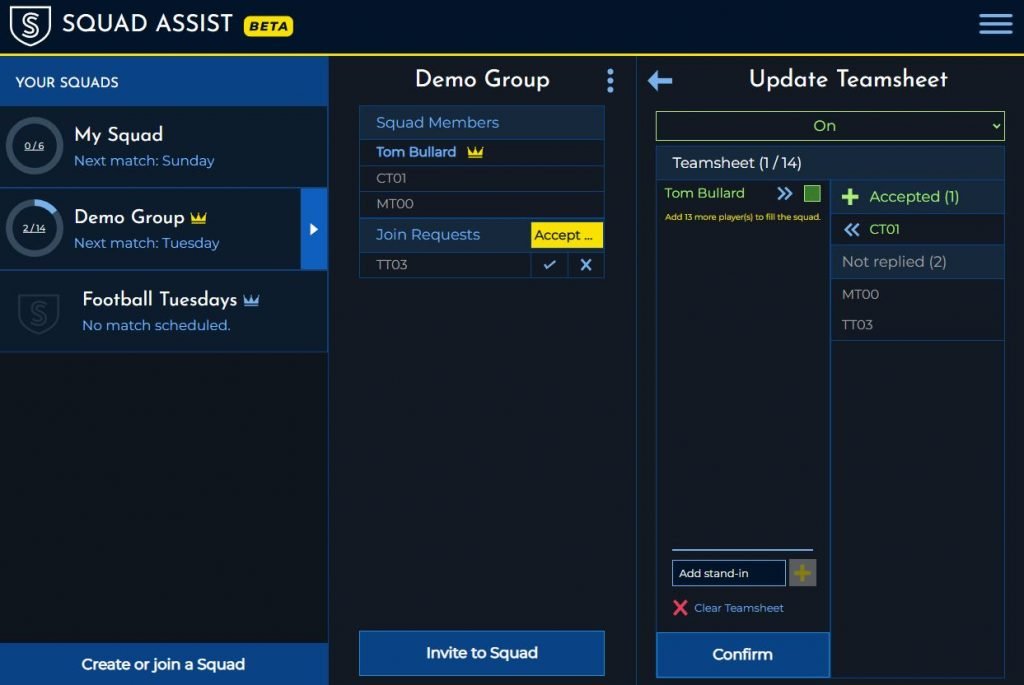 Known Issues
Here is a list of issues and missing features to be aware of with the Squad Assist open beta. We will be addressing these with future updates:
Routing: The app should automatically redirect you to another page after completing some actions (such as deleting a squad). The majority of the issues with this have been fixed but some might still remain.
Mobile phone keyboard: This can cause layout and usability issues on certain menus when visible, such as when adding a stand-in on the manage teamsheet screen.
Real time updates: The app doesn't always update in real time. You won't see any new signups, or events until you either refresh the page or load a new one if you have the app or website open.
No match history: Events will disappear from the app as soon as they have started. A new section allowing you to view past events will be added.
Group administration: You're not able to change your squad's name, change who is the group admin, nor can you remove people from your squad once they have joined.
General user options: There are a few things missing that you would normally expect from an app. There is no "forgotten password" feature or account deletion options for example.
No match payments: It's not possible to pay your match fee through the app. This is a feature listed on our website and will be something we add in the future. However, it won't be available during the initial phase of the beta.
Feedback
We would really value your input on every aspect of the app. Especially any issues you find, things that you feel don't work well, and suggestions for features you want to see added.
We specifically want to hear from Squad organisers about the team sheet management section and the process of confirming sign ups. As well as anyone with a visual impairment who can test our themes. We've used simulators to help us design these, but they are no match for feedback from you.
You can send us your feedback in lots of different ways:
Finally, we'll also send out a feedback survey to everyone who participates in the beta. We look forward to hearing what you think of the Squad Assist app.
We are delighted to announce that the beta version of Squad Assist will be launching in October, 2022. This will be the first time we have real squads test out our football organiser. In this blog post we discuss what to expect from the beta, give you more info about the app and our plans, and share with you how to register your interest in the upcoming testing.
What is Squad Assist?
Squad Assist is a football organising website and web app. It benefits all types of football players at any level, from casual 5-a-side through to local grassroots, Sunday league teams, futsal, and walking football. If you have played any of these then chances are you've experienced the difficulties of finding out who is available and whether you have enough for the game to go ahead. Squad Assist helps get your squad organised and your game on.
What features will the beta test have?
When testing begins next month you will be able to create a squad and invite your teammates to sign up and join you. All players will be able to join multiple squads making it the go-to site for managing all your weekly games.
Everyone within a squad will be able to be see upcoming games scheduled on the squad's event list. Giving them the opportunity to say whether they can play or not. These event cards also show who else has signed up, what date and time the match is, where it is taking place, how much it will cost, and whether the game is on or off.
Will you be adding more features?
Yes, we have an exciting list of features we will be developing and adding to Squad Assist over the coming months. Here is a preview of what's coming up:
Payments
Our plan is to integrate a payment system into Squad Assist so that you can pay your match fee through the app. We will also add further functionality so that both organisers and players can see debts and their payment history.
Football Specific Features
Squad Assist's main focus is on football and we will be developing features that benefit footballers and their squads. Expect things like a teams-picker, player profiles, player status icons, and more. We will be posting more details on these features in the future across our social media channels and website. We would also love to hear from you about which features you want to see added. Get in touch!
Themes
The beta will launch with a dark theme as the only selectable option from the user settings. Shortly after this has launched, we will then add three accessibility themes. There will be one for Deuteranopia & Protanopia (red-green colour blindness), one for Tritanopia (blue-yellow), as well as a high contrast one. We have used colour simulations to create these, and really want to hear from you about how effective they are. After these have been added we will work on a light theme.
Can I use this app for other sports?
Yes! We love playing football and have created Squad Assist with this in mind but there is no reason why you can't use it to organise the sports you love. We'll certainly be using it ourselves to schedule other sports.
How can I sign up to the beta?
Head over to signup.squad-assist.com and enter your email address to be invited to the beta. As soon as this goes live in October, we will email you and everyone else signed up with details on how to access the Squad Assist web app. Before then you will also be able to copy your own unique referral code that you can send your teammates and get them to join the beta too.
Do I get anything for testing it?
Yes, as a thank you for testing and providing us with feedback we will reward the most active squads during the beta with access to new features before they are publicly available. A select number of accounts with high levels of genuine referrals will also get a permanent ad free experience.
---
We're very excited to be launching the first public version of Squad Assist and cannot wait to hear your thoughts and feedback. We will be posting more content on our site and social media over the next month so stay tuned!
To kick things off for the first post on our website and to welcome you to the blog, let's have a look at what we will be using this section for. We want to create content across three categories to begin with. These will form the main topics for our blog:
Development
First and foremost, development posts will share any updates we make to the app, usually known as patch notes. We'll also use this category to preview upcoming features and to share our ideas of what we plan to implement in the future. When the beta is launched later this year it will have a limited set of features, but we already know what we want to add to it. These posts will help us keep you in the loop about them.
Sport
With this section we will discuss topics related to sport, such as football tactics, or sharing people's stories about how they got into sport. The aim of these posts will be to help new players into football and give fresh ideas to experienced players. We have many years of experience playing small sided football, that's games where you have less than the standard 11-a-side according to Football England. Basically, anything from 4 vs 4 up to 9 vs 9. As a result, we have invented our own ways of thinking about small sided games and plan to share these on here. We're also considering producing posts on fitness, technique and training drills, mentality, and nutrition, to offer a complete guide for those looking to improve areas of their game.
Business
From time to time, we may provide updates about us as a business. These are things we feel are important to share but aren't necessarily related to the app, such as, posts getting to know us, sponsoring athletes or teams, and milestones achieved. Speaking of which, the app is currently in the alpha testing stage and the next milestone will be the open public beta test in the autumn of 2022. We will be announcing details about this soon.
Over time we may decide we need to add more tags. To keep up to date with our blog please head over and follow us on LinkedIn and Twitter. This concludes our introduction to the blog and the three categories we plan to create content for.